Our fall concert celebrates the 100th anniversary of Armistice Day. This day is commemorated every year on November 11th to mark the armistice signed between the Allies of World War I and Germany at Compiègne, France, for the cessation of hostilities on the Western Front of World War I. The armistice took effect at eleven o'clock in the morning—the "eleventh hour of the eleventh day of the eleventh month" of 1918.
Program
The concert opens with a Presentation of Colors, the flag reminding us of the generations of servicemen and women who have fought and sacrificed for the freedoms we enjoy. The musical numbers include patriotic and military tunes dating from the American Revolutionary War to the Civil War. The Children's Choir will present favorites such as "Yankee Doodle Dandy" and "Battle Hymn of the Republic."
The second half of the concert focuses on the 100th anniversay of the Armistice with songs from that time, and works using poetry written to remember this first truly global conflict, the "war to end all wars." The concert ends with a rendition of "God Bless America."
Admission
The concert is free to the public. A freewill offering will be taken.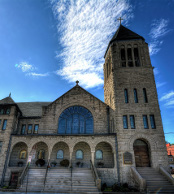 St. Luke's Methodist
St. Luke's is at the corner of Main and 12th Streets. Parking is available on the street and in the lot across the street. An accessible entrance is from the alley.