Saturday September 26, 2015, 7:30 pm
John and Alice Butler Hall
Heritage Center, University of Dubuque
Saturday Nov 7, 2015, 7:30 pm
Sunday Nov 8, 2015, 2:00 pm
Five Flags Theater, Dubuque
Saturday December 5, 2015, 7:30 pm
Sunday December 6, 2015, 2:00 pm
Five Flags Theater, Dubuque

See this season's exciting line-up!

Make a gift to the Dubuque Chorale.

Rehearsal schedule, member documents and links.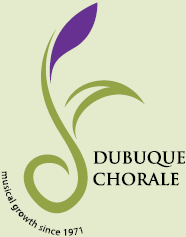 The Dubuque Chorale is a community vocal group based in Dubuque, Iowa. Come enjoy our next concert!
The season's rehearsals have begun. If you missed last week, fill out the Commitment Forms and bring them along Thursday. See you then!
There's still time to join us this fall. Find out how here.