Saturday September 26, 2015, 7:30 pm
Heritage Center, University of Dubuque
Saturday Nov 7, 2015, 7:30 pm
Sunday Nov 8, 2015, 2:00 pm
Five Flags Theater, Dubuque
Saturday December 5, 2015, 7:30 pm
Sunday December 6, 2015, 2:00 pm
Five Flags Theater, Dubuque

See next season's exciting line-up!

Make a gift to the Dubuque Chorale.

Rehearsal schedule, member documents and links.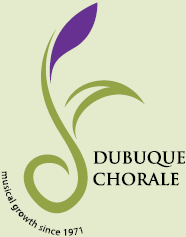 The Dubuque Chorale is a community vocal group based in Dubuque, Iowa. Come enjoy our next concert!
Consider joining us this fall! Find out how to join here. Or here to join the Children's Choir.