Celebrating the launch of the Children's Choir!

Make a gift to the Dubuque Chorale.

Rehearsal schedule, Bob's Blog, the latest news.

The Dubuque Chorale has received $1,500 from the Dubuque Corporate Golf Challenge, hosted by Thunder Hills Country Club. The Crescent Electric Supply team of Jim Etheredge, Marty Burbridge, Mike Schmid, and Dick Cody won the event, and directed their prize to the Chorale. The Chorale thanks them, and the companies sponsoring the event!
The Dubuque Chorale is proud to receive funding from the Iowa Arts Council.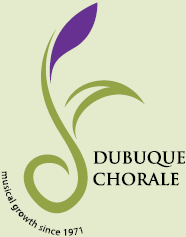 The Dubuque Chorale is a community vocal group based in Dubuque, Iowa. Come enjoy our next concert, or better yet...
New members can join through September 4. Come sing with us!