Saturday Nov 1, 2014, 7:30 pm
Sunday Nov 2, 2014, 2:00 pm
Church of the Nativity, Dubuque

Celebrating the launch of the Children's Choir!

Make a gift to the Dubuque Chorale.

Rehearsal schedule, Bob's Blog, member documents.
The Dubuque Chorale is proud to receive funding from the Iowa Arts Council.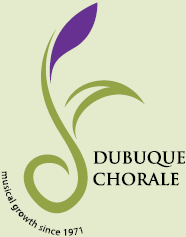 The Dubuque Chorale is a community vocal group based in Dubuque, Iowa. Come enjoy our next concert!